Multi-point vehicle inspection, Vehicle Check-Up, Vehicle Health Check, eVHC, Vehicle condition report, and Vehicle Inspection Sheet are all different names used for the same thing, which we call Service Checklists. 
The basic idea of a service checklist is to provide a "to-do list" for a service department to ensure consistency and thoroughness in carrying out service jobs or tasks. Another active role of the Service Checklist is to deliver valuable information to customers about their vehicles from both a maintenance and safety point of view. Finally, we must not forget that service checklists are also practical job aids that are purported to compensate for potential limitations that human memory and attention come with. 
What is so great about Service Checklists in the DMS?  
As far as we're concerned, Service Checklists are easy to understand, and the results of service checklists impress customers by giving them a thorough and objective evaluation provided by a qualified service expert. From a different perspective, it also helps to rid customers of anxiety over anticipating salesman persuasively trying to upsell additional services. 
What is typical about service checklists? 
A typical service checklist contains checkpoints (tasks) that are examined during an inspection and tick once completed. Signal indicator lights are used very frequently to clearly indicate checkpoints that require immediate attention (Red Light), checkpoints that should be dealt with in the near future (Yellow), or checkpoints where no action is needed (Green).  
For better illustration, see Vehicle Reception App with integrated Vehicle Health Check (VHC). Here the DMS is still evolving, and it has plenty of room for growth and improvement. Without a doubt, service checklists are playing and will keep on playing an essential role for service departments. Using Mobile devices (tablets, smartphones..), service technicians can complete checkpoints during an inspection without being tied up to a desk. Collected data and media are immediately available for future processing in the DMS.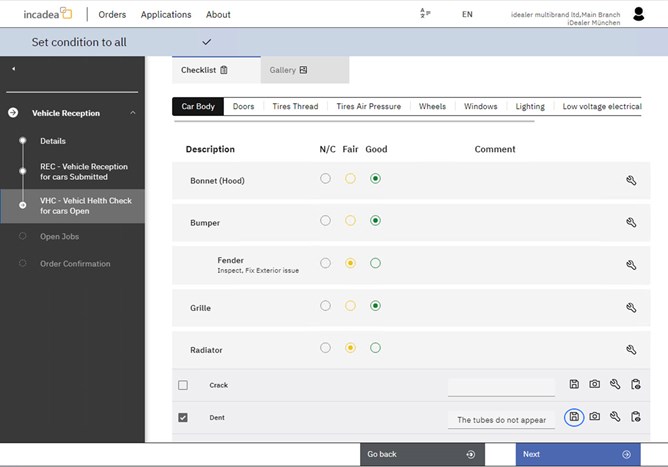 A secret of business success is how well one can turn a profit using potential service opportunities. Yellow checkpoints constitute the most critical aspect of carrying out an upsell in the future. Ensuring no details are forgotten, the DMS has to provide a simple way to collect all "open jobs" and enable them to be used for future follow-up activities. 
Service managers shouldn't underestimate the benefits of using service checklists because this tool can easily enhance the customer experience throughout visiting the dealership.  
Dr. Juraj Hanus
Product Management DMS | juraj.hanus@incadea.com