At least twice a year many of us have to follow the same routine, changing of tires from winter to summer and vice versa. Handling of dirty tires and losing valuable space in your home, causing certain inconvenience. That, of course, is a moment when people start to look at alternatives.
When you need to store your seasonal tires, there is no better place than the Tire Hotel. Tire Hotel is a service provided by dealerships in order to store seasonal tires on your behalf. Tire storage is well accepted in countries where weather conditions require a usage of different types of tires during the year (summer, winter, spikes…).
For dealerships, the Tire Hotel is attractive as well. It can bring an extra revenue stream during the tire season. Frankly asking, who among service managers is willing to ignore such business opportunities? This brings me back to my starting point of my article.
Without a doubt, managing tire storage effectively requires a functional base in the DMS. The DMS must provide a solid end-to-end solution in order to assist dealerships with the tire storage process as well as with managing of a tire inventory effectively and paperless. For instance, process of a tire storage, retrieve and change accompanying mobile devices and barcode labels can improve the inventory handling significantly.
Finally, yet importantly, tires are a critical component of the vehicles as well as an element of active safety. Regular inspections and capturing tire conditions (e.g. the tire profile depth) in the DMS bring extra benefits for both parties. For the best customer service, convenience, care, and safety when dealing with seasonal tires, and for dealerships it is a generator of vehicle appointments and future customer visits.
Let me comment briefly on incadea.dms. As a part of our latest product release, besides other handy functionalities, we have introduced a new add-on module named Tire Hotel. Tire Hotel is a solid solution which can easily assist dealerships with a tire storage process while using the functionality from the DMS more effectively.
It fully covers the most important processes of storage, retrieve and change of tires using a single page named Tire Hotel Order. This allows users to perform tasks faster, and with a fewer clicks see all necessary information related to customers' tires.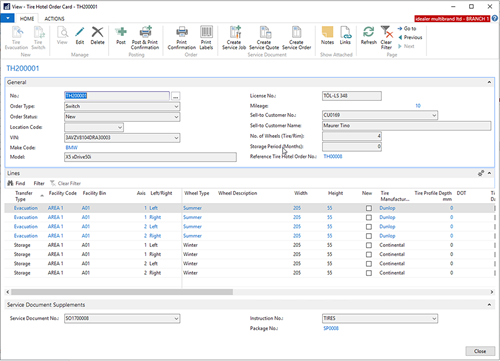 We consider how easily, intuitive and simple functions can be in order to manage a tire warehouse effectively. We believe the best solutions are those which are intuitive to learn and easy to use. I call this style the design for life.
Interested in more? Feel free to contact me.
Dr. Juraj Hanus
Product Manager DMS | juraj.hanus@incadea.com